I have a kitchen in the apartment and I want to use it. Where do I shop for local specialities?
Targ Stary Kleparz – fresh & local fruit and vegetables operated from 650 years is open daily. You will find some seasonal products homemade. Great place!
opening hours:
Mon-Fri 6:00 – 18:00
Sat 6:00 – 16:00
Sun 8:00 – 15:00
Address: Rynek Kleparski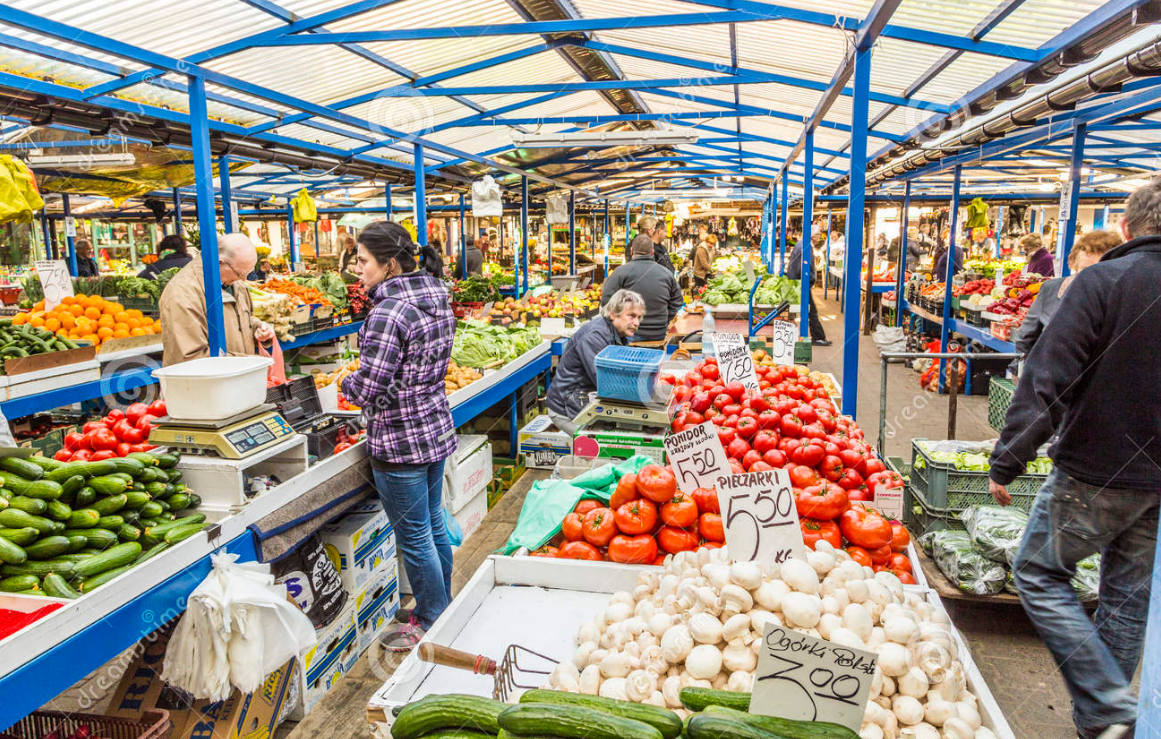 Piekarnia Mojego Taty – "My dads bakery" / coffee roaster / sandwitches. Try treir bread. It's baked based on traditional recipe. Very tasty sandwitches and they roast their own coffee!
Opening hours:
Mon-Fri 7:00 – 19:00
Sat 7:00 – 14:00
Sun CLOSED
Address: 68A Karmelicka (a bit hidden - go inside the couryard)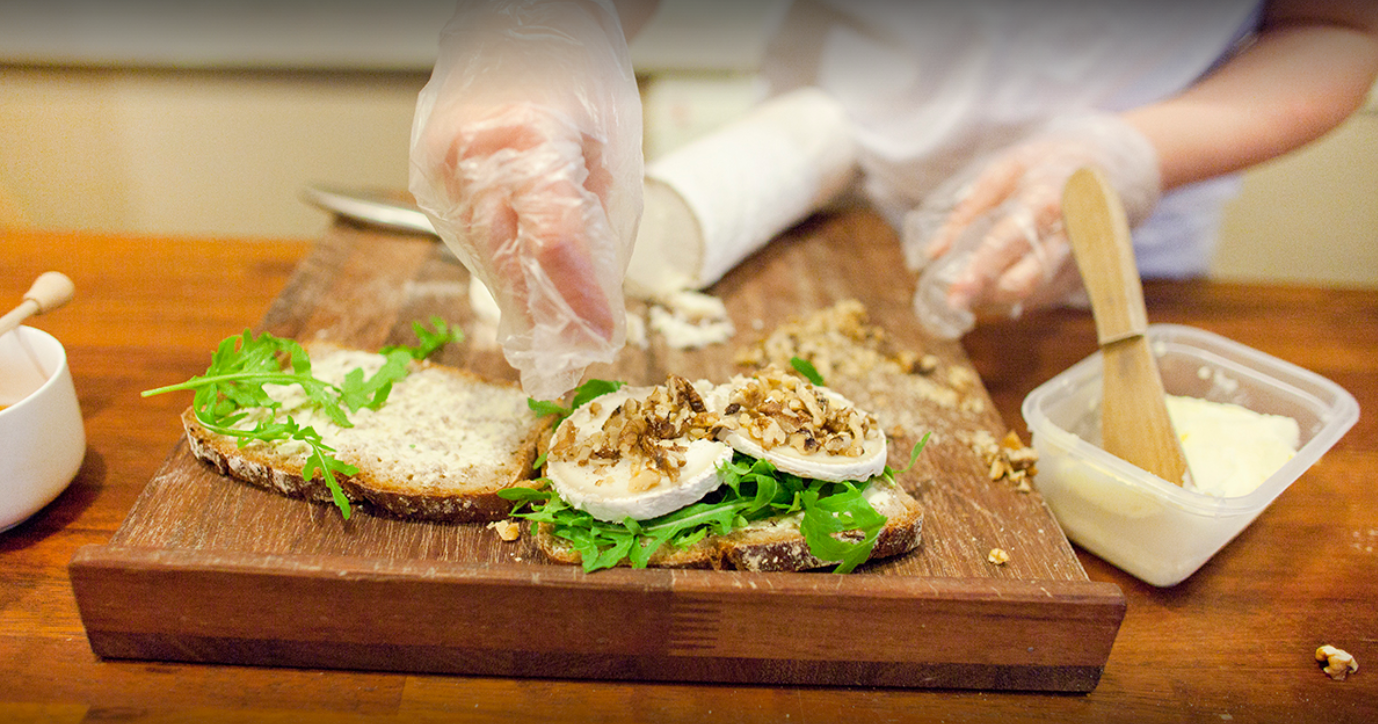 Buczek – bakery and pastiers
opening hours:
Mon-Fri 7:00 – 19:00
Sat 7:00 – 16:00
Sun 9:00 – 15:00
Address: 46 Długa St., Rynek Kleparski 9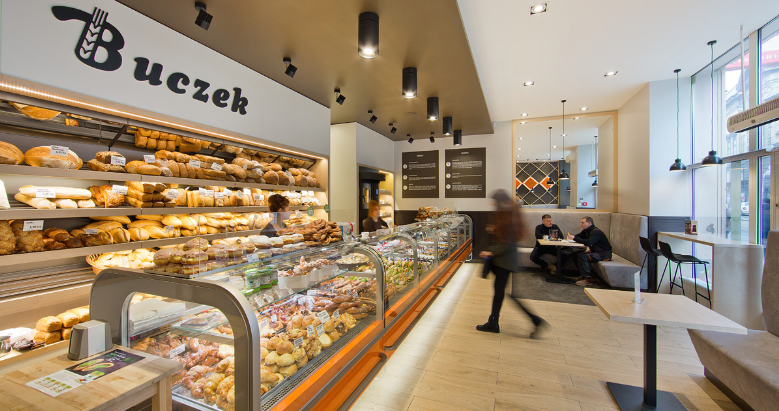 Lajkonik – bakery and pasties
opening hours:
pon-pt / Mon-Fri 6:30 – 20:00
sb / Sat 7:00 – 20:00
nd / Sun 7:00 – 21:00
Address: 22 Karmelicka St., 15 Basztowa St.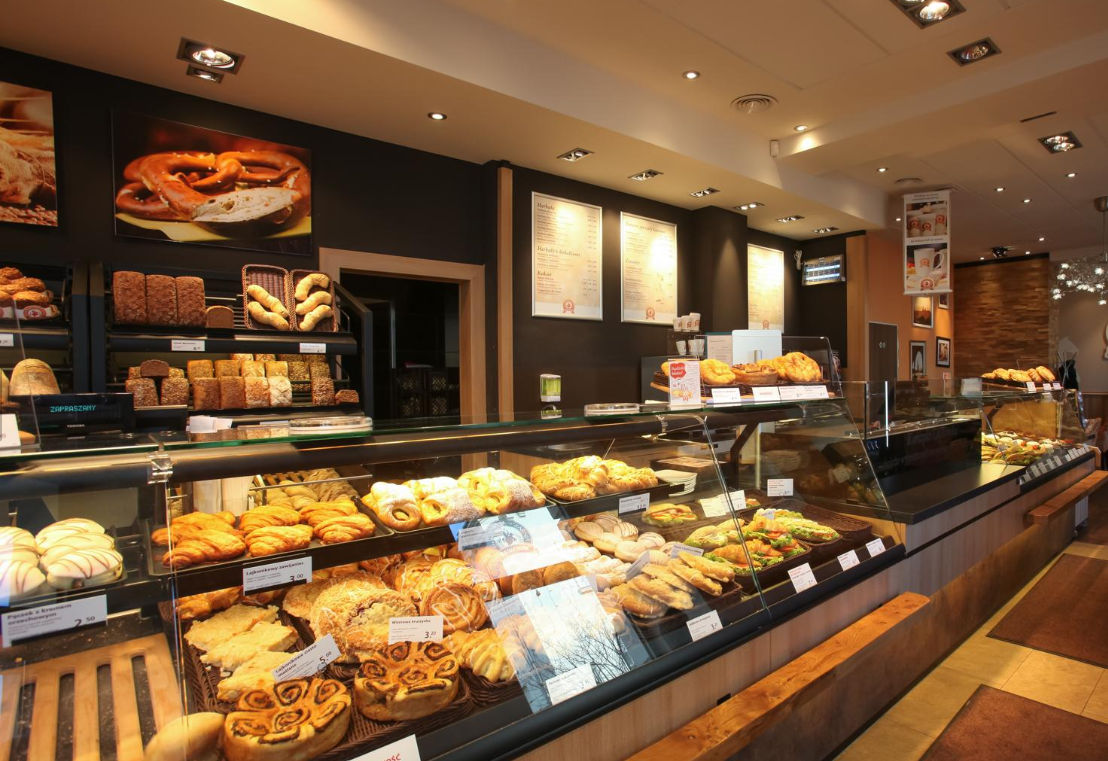 Szubryt – butcher's - if you are not vegan yet, this is the place to try local meats, hams, sausages ect. Get 10 slices each and find your favourite.
Opening hours:
Mon 9:00 – 18:00
Tue-Fri 8:00 – 18:00
Sat 8:00 – 14:00
Sun NIECZYNNE / CLOSED
Address: ul. Rajska 8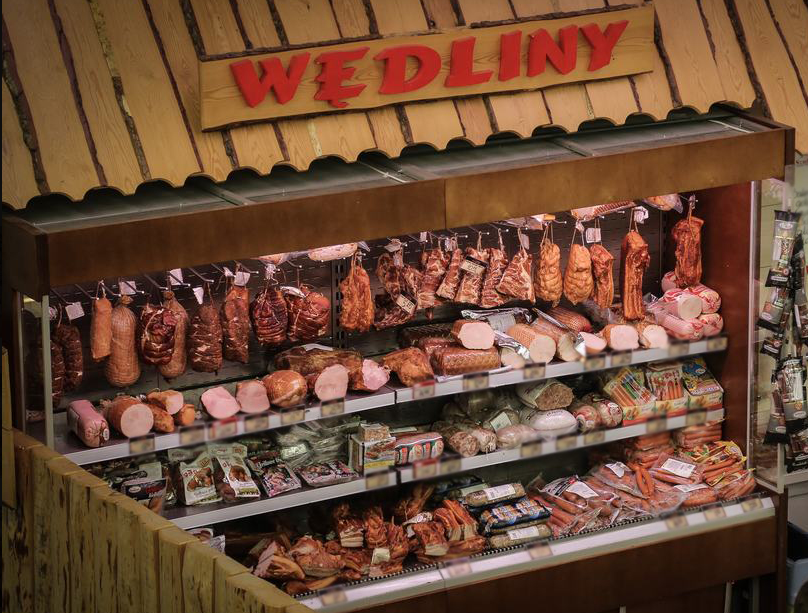 Find a nice Cafe in the area
There is a great number of nice places depending what you are hungry for and if you want ta have a quick bite or relax for an hour sipping freschy suized orange juice while watching the moring sun. Here is the list.

Dynia Resto Bar - great place for breakfast, lunch, coffee... One of my favourite in Krakow.
Address: 20 Krupnicza St.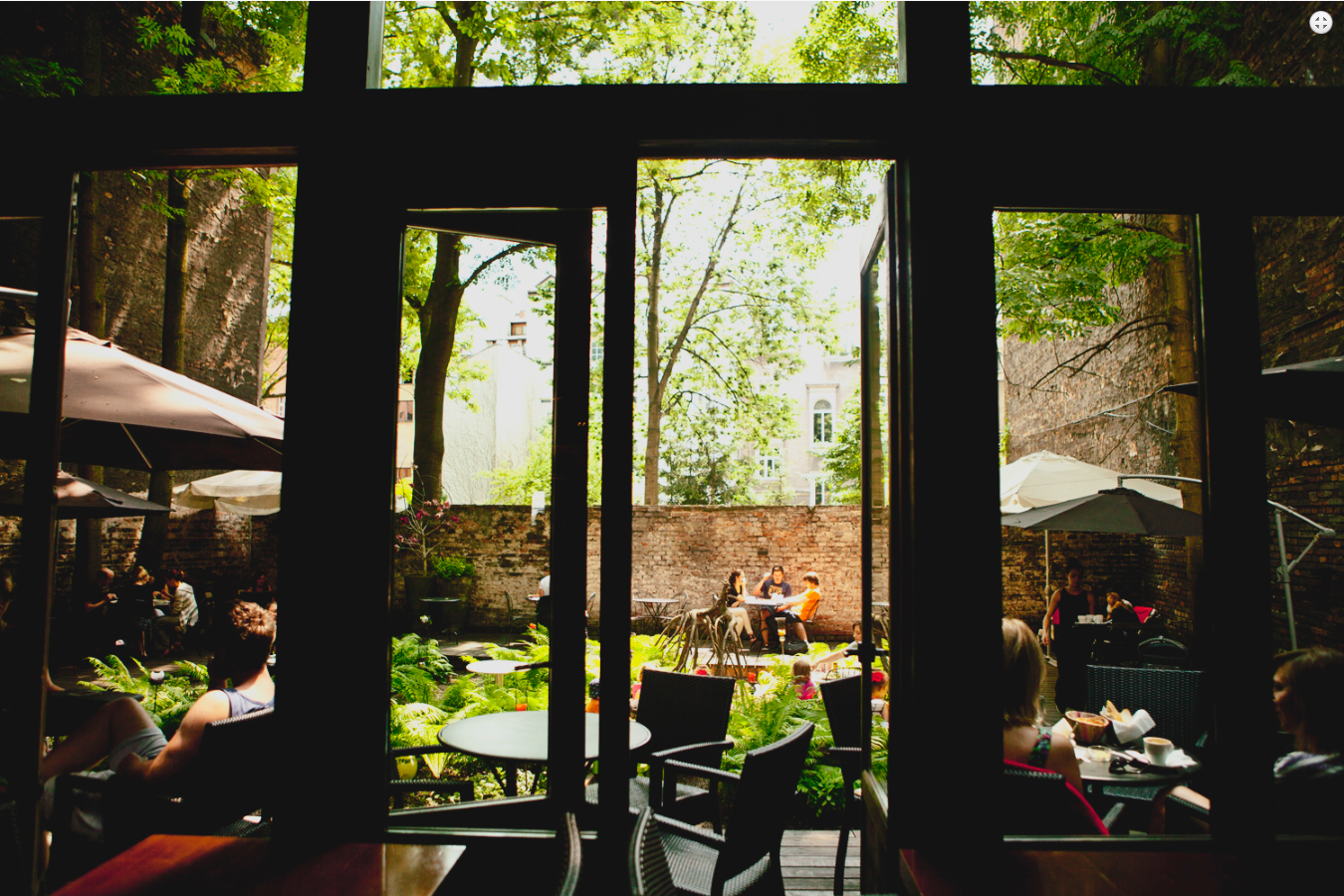 Bococa Bistro is located just 2 minutes away from M57 Yourplace Apartments.
Address: Plac Inwalidów 7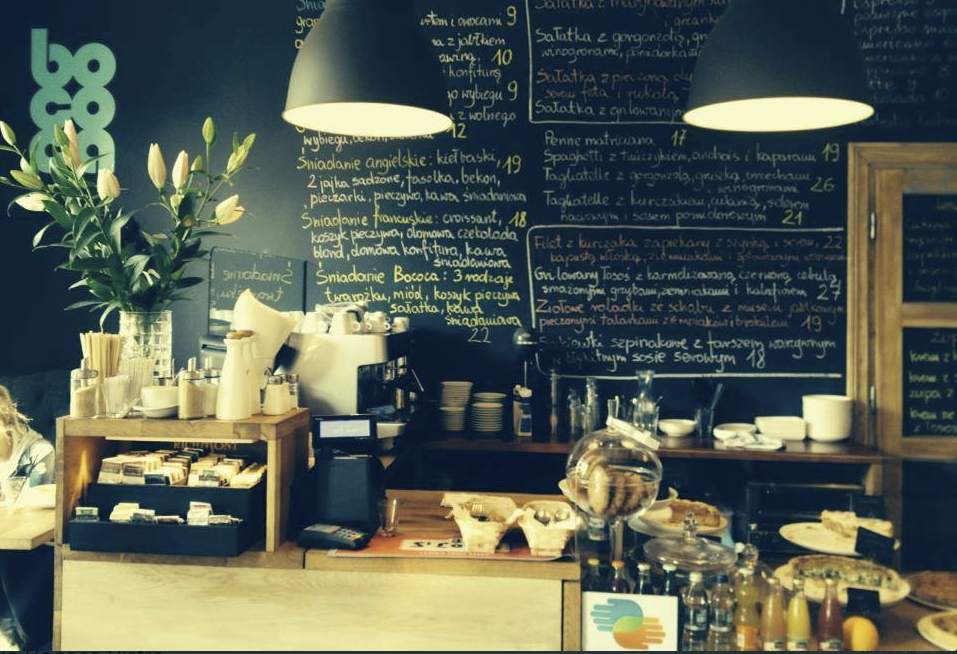 Marco - cheap and usefull eatery, located at the crorner of Łobzowska and Biskupia, 1 min away from our reception and most apartments. Polish traditional breakfast, lunch and dinner.
Address: 2 Biskupia St.
Open 8-20 daily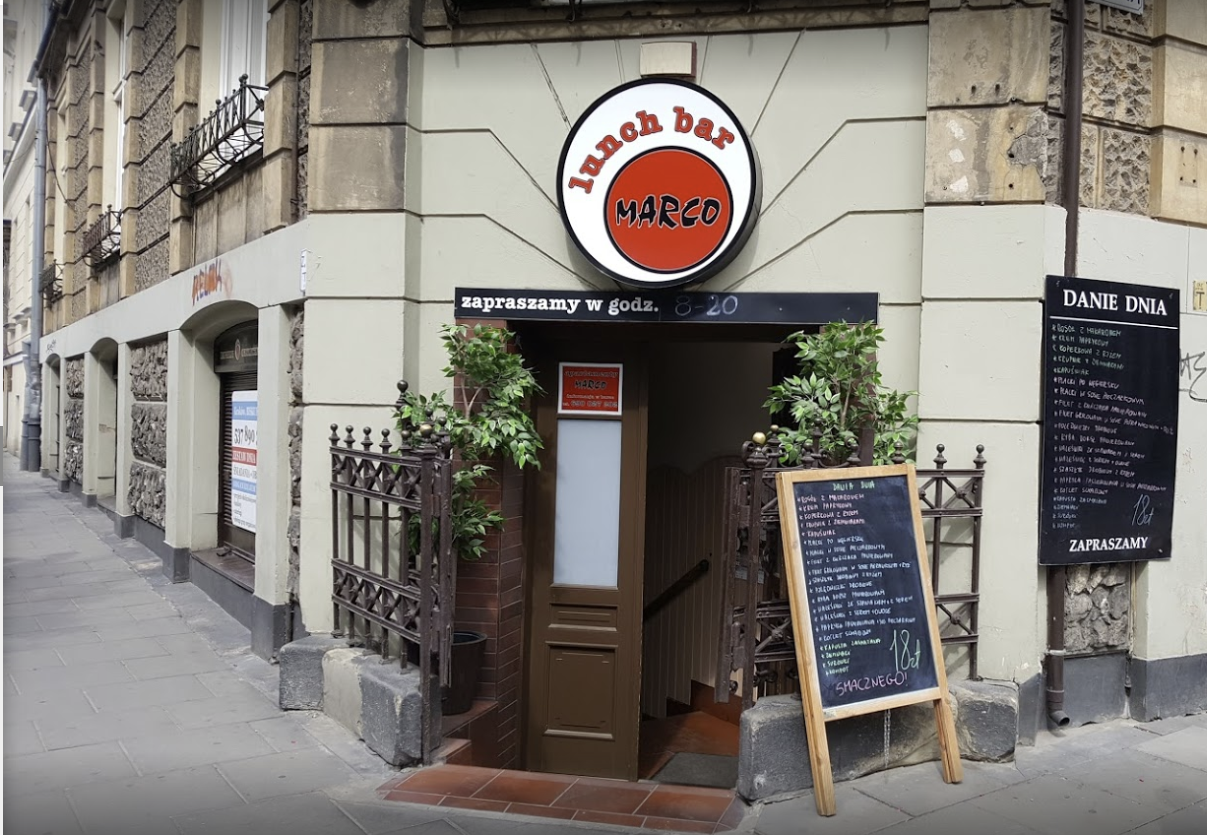 Lunch
Scandale Royal –everything from breakfast buffet to fancy dinner
Address: 2 Szczepański Square Tel.: +48 12 422 13 33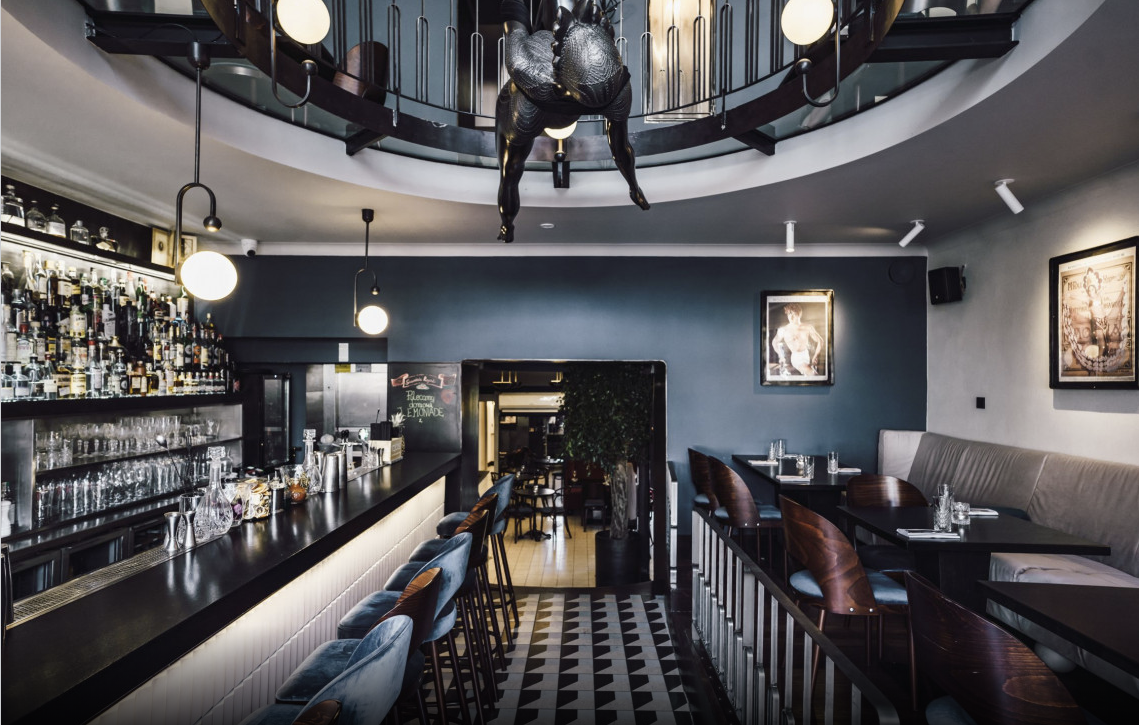 Milkbar – desing based on traditional polish milk bars that were supposed be affordable eateries for masses.
Address: 24 Św Tomasza St.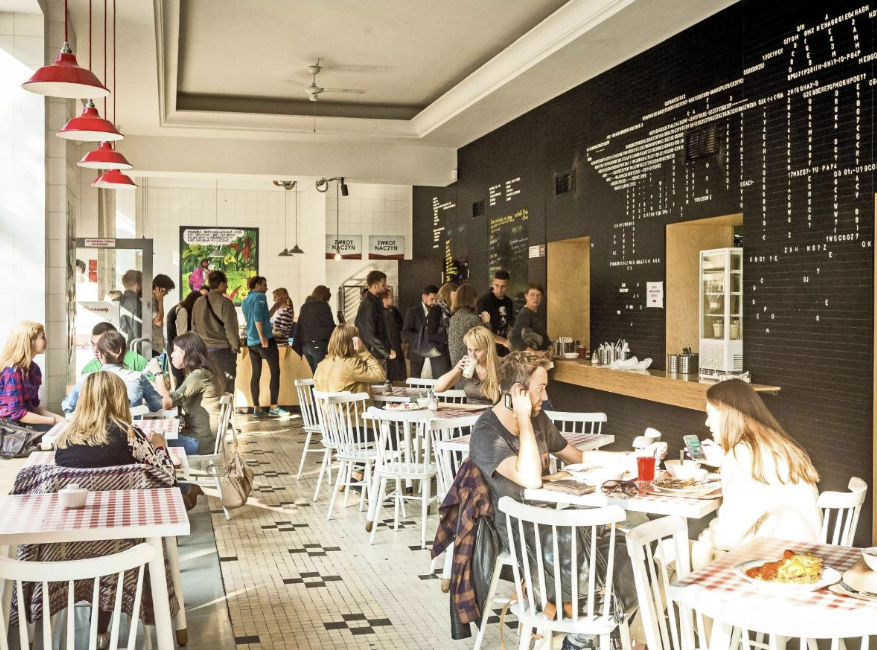 Stół
Address: 4 Św Anny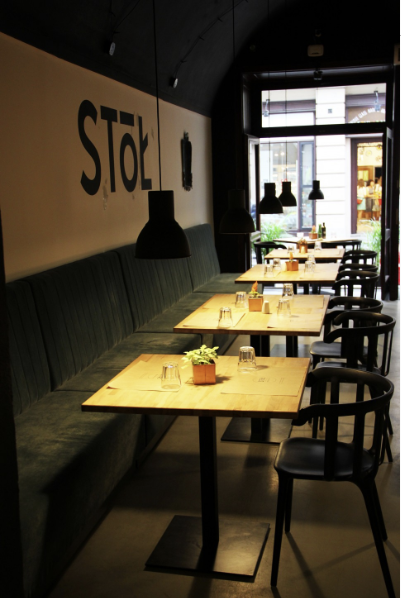 Thai Food
Great new place in 19 Miodowa St. in Kazimierz District (20min walk from yourplace). Great lunch menu priced at 30 or 40PLN per person. Open for evenings as well.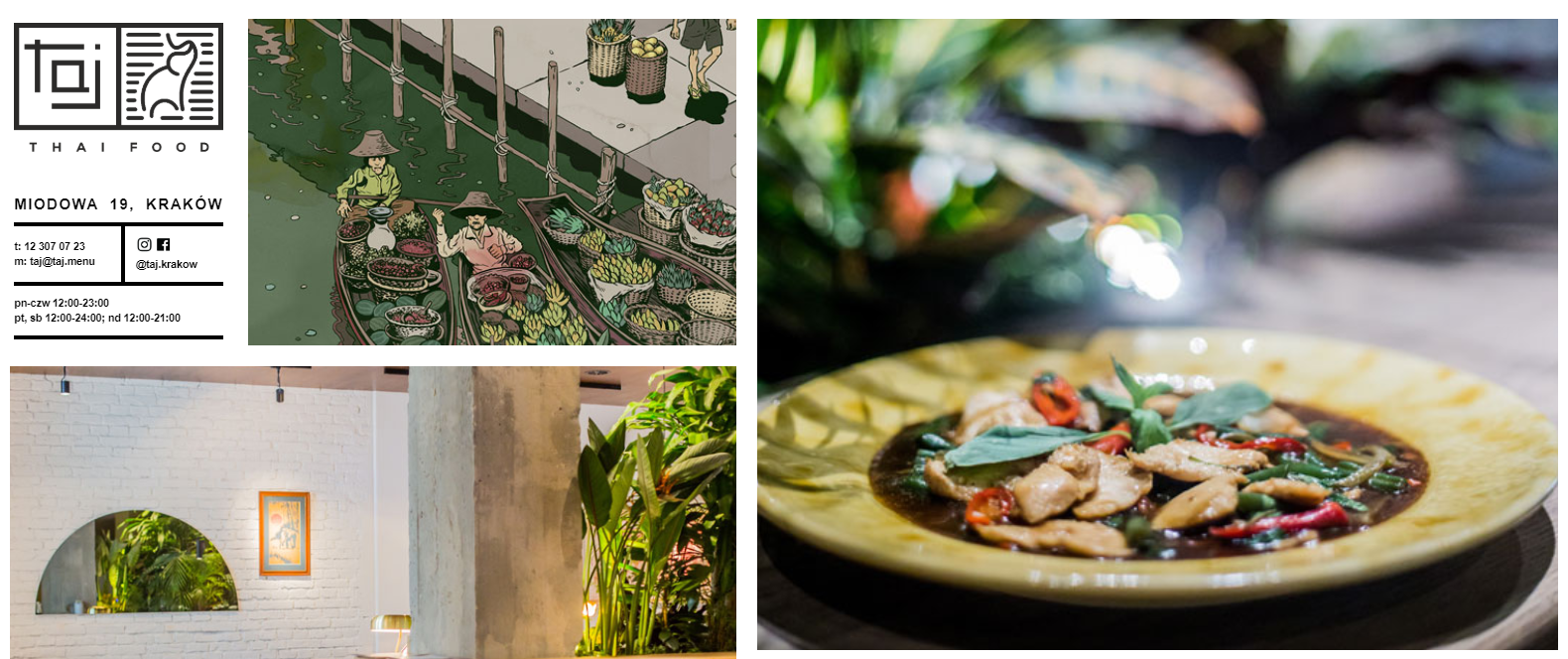 Skwer Judah – a square full of food trucks locaded in Kazimierz. Everything from belgium fries to japanise sushi
Address: 16 Św Wawrzyńca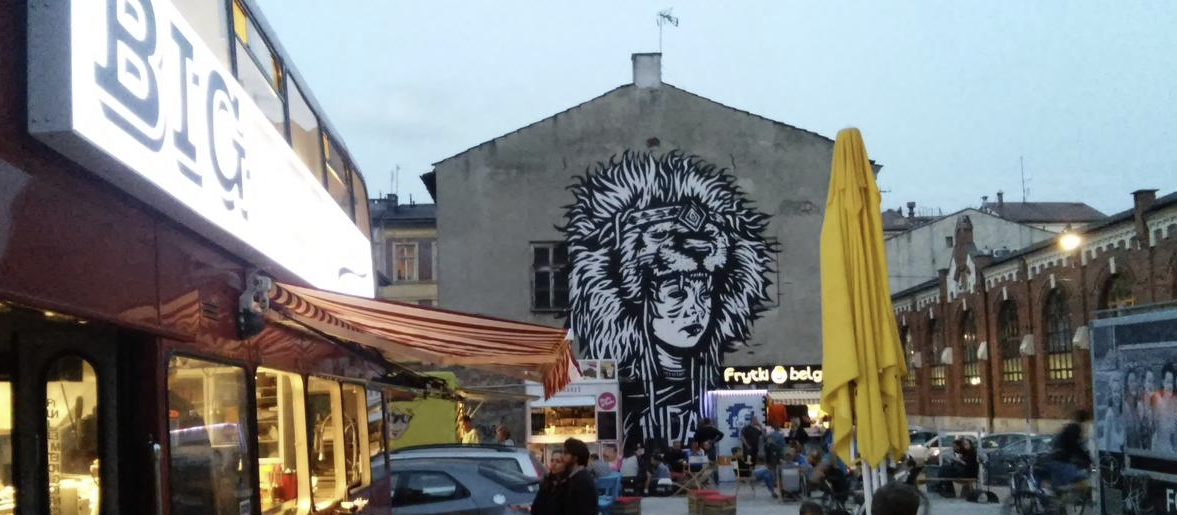 Bibimbap in Oriental Spoon, have a healthy lunchbox of korean food. Love it! Address: Paderewskiego 4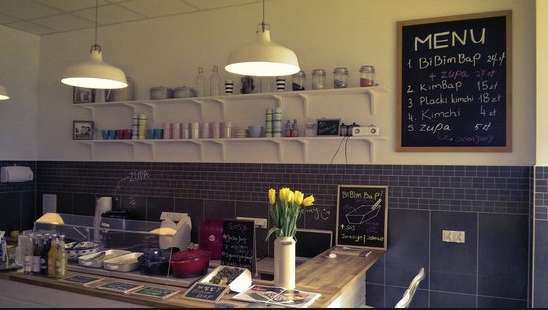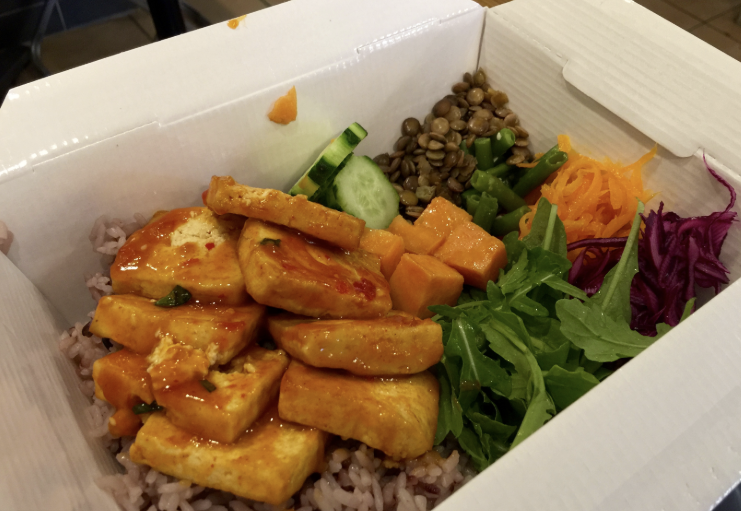 Where to go for Dinner?
Kogel Mogel - quite expensive place with great food. Michelin stamped every year.
Address: ul. Sienna 12

Pasaż Bielaka – a bit secret passage, check it out
Address: ul.Stolarska 5
PIMIENTO ARGENTINO GRILL - they care about two things in particular. Beef, the best of which they import from all over the world. The core of the menu is Argentinian beef in many shapes and forms but you can find a variety of other dishes here as well. With hospitality being the other thing, they do their best to make sure your every visit is a memorable one. Having opened 3 restaurants in Kraków within the last 13 years, they like to joke around that they are always in the neighbourhood. Do not be fooled by the multitute of locations though, as it is recommended to book in advance in order to get a table in any of them
Address: ul.Stolarska 13, ul. Józefa 26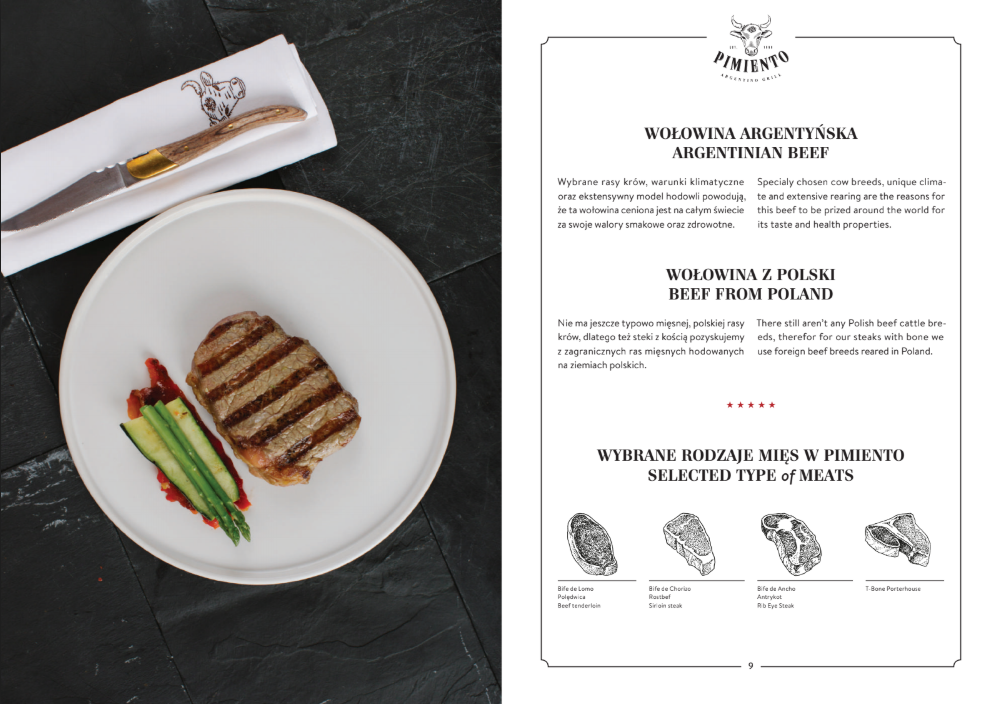 Pod Wawelem - kampania kuflowa
For meat lovers, biggest winerschnitzel in Krakow! Lound and vivid place! Worth to visit because of the spitit, jokes in toilet room and good buy shot ;)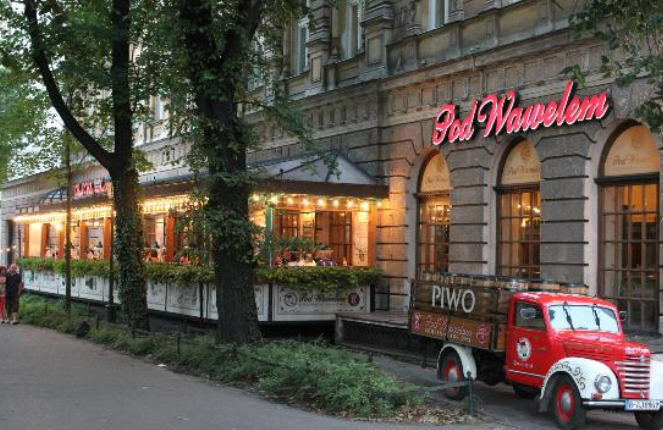 BaniaLuka
Address: 13 Szewska St. / 6 Szczepański Square

Mostowa Art Cafe – great place to discover
Address: 8 Mostowa St.

Enklawa Restaurant & Coctail Bar very interesting place located in the area of Tytano Complex (Old Tabaco Company)
Address: 10 Dolnych Młynów St.
Tel.: +48 602 761 588

Browar Lubicz - try freshly brewed beer there. There use to be one of Polish bigest beer manufacurer Okocim Brand. The old factory was turn into apartment complex but some buildings were saved.
Address: 17 Lubicz St.
Tel.: +48 12 353 99 44
Wege
Momo – pierwsza pozycja na liście wegańskich knajp na Kazimierzu. Tu liczy się eko. Coś dla miłośników rozgrzewającej kuchni północnoindyjskiej. W przytulnej atmosferze spróbujecie tu pysznych zup, sycącego curry, czy placków masala dosa z orzechowym sosem. Mimo, że Bar Momo oferuje głównie proste dania, to skrada serce starannością i miłością włożoną w przygotowanie każdego z nich.
Adres: ul.Dietla 49

Pod Norenami – Great place for Vegetarian and Vegan. You want to book the table in advance. Inspired by Indian, Thuy and Japanese cousine. Vegetarian and vegan menu.
Address: 6 Krupnicza St.
Tel.: +48 661 219 289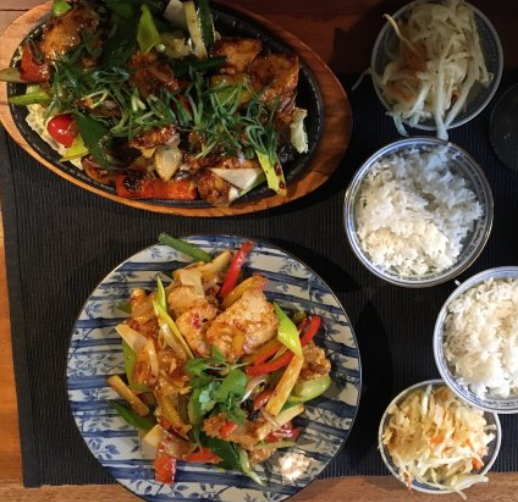 Krowarzywa – tu kupisz wegańskie burgery wypchane świeżymi, zdrowymi, roślinnymi składnikami. Przygotowywane są z pasją, a jakość idzie tu w parze z ilością. Jak sami się reklamują: "W naszym jedzeniu znajdziesz zdrowie oraz miłość do zwierząt i przyrody." Prawdziwy wege fast-food.
Adres: ul.Sławkowska 8
How about desert? I want to try the best icecream in Krakow
Hmm you need to try few in order to decide which one is the best. The very traditional icecream served only during the summer months are located on Starowislna St. Sometimes you need to queue for like half on hour to get your favourite one. During the winter time they serve best doughnats ever.
Pracownia Cukiernicza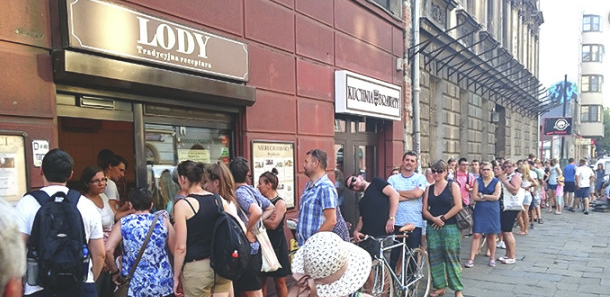 Good lood icecream are very tasty and trendy now in Krakow, download the app and find the nearest lood spot :)
Address: Basztowa, Plac Axcentowicza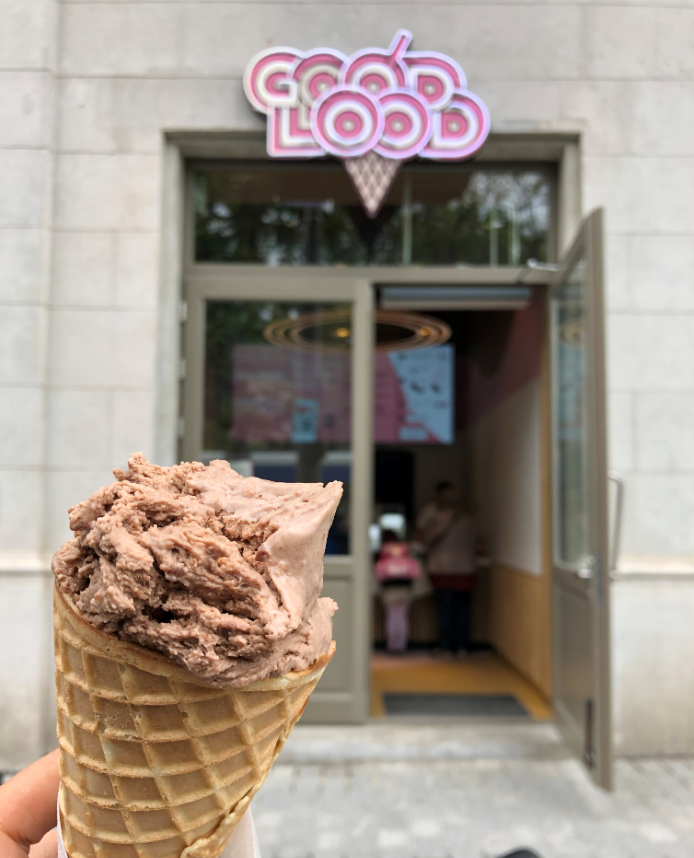 Lodziarnia Tiffany serves authentiq persian icecream flavours like Safran, Baclava, Persian berry or Persian Rose. You need to try.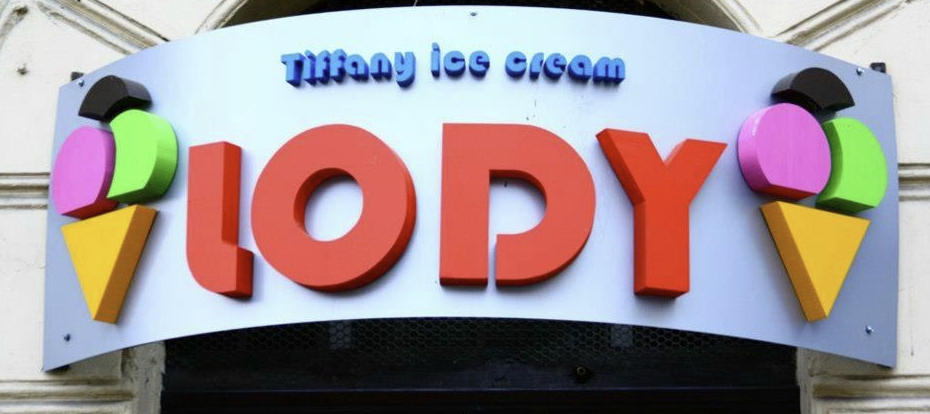 Recommended Dance Clubs in Kraków
Stalowe Magnolie, live music, Szpitalna St.
Teatro Cubano, Jagielonska St.
Shakers, Szewska St.
U Luisa, Grodzka St.
Entertainment
Teatr im. Juliusza Słowackiego w Krakowie
Address: plac Świętego Ducha 1, 30-001 Kraków
Tel: 12 424 45 00
http://www.slowacki.krakow.pl/
Narodowy Stary Teatr w Krakowie
Address: Jagiellońska 5, 30-001 Kraków
Tel: 12 422 80 20
http://www.stary.pl/
Filharmonia im. Karola Szymanowskiego w Krakowie
Adres: Zwierzyniecka 1, 30-001 Kraków
Telefon: 12 422 94 77
http://www.filharmonia.krakow.pl/
Krakowski Teatr Variété – teatr muzyczny
Adres: Grzegórzecka 71, 31-559 Kraków
Telefon: 12 442 78 00
http://teatrvariete.pl/en/main-page/
Opera Krakowska
Adres: Lubicz 48, Kraków
Telefon: 12 296 62 00
http://www.opera.krakow.pl/
Kino Cinema City w Galerii Kazimierz
Adres: Podgórska 34, 33-332 Kraków
Telefon: 12 254 54 54
https://www.cinema-city.pl/Kazimierz
Kino Pod Baranami – krakowskie kino studyjne
Adres: Rynek Główny 27, 30-001 Kraków
Telefon: 12 423 07 68
http://www.kinopodbaranami.pl/
Muzeum Narodowe w Krakowie
Adres: Al. 3 Maja 1, 30-062 Kraków
Godziny otwarcia:
poniedziałek Zamknięte
wt-sob 10:00–18:00
niedziela 10:00–16:00
Telefon: 12 433 55 00
http://mnk.pl/
Muzeum Lotnictwa Polskiego
Adres: al. Jana Pawła II 39, 31-864 Kraków
Godziny otwarcia:
poniedziałek Zamknięte
wt-niedz 09:00–17:00
Telefon: 12 640 99 60
http://muzeumlotnictwa.pl/
Mocak - Muzeum Sztuki Współczesnej w Krakowie
Adres: Lipowa 4, 30-702 Kraków
Godziny otwarcia:
poniedziałek Zamknięte
wt-niedz 11:00–19:00
Telefon: 12 263 40 00
https://mocak.pl/
Żydowskie Muzeum Galicja
Adres: Dajwór 18, 31-052 Kraków
Godziny otwarcia:
codziennie 10:00–18:00
Telefon: 12 421 68 42
http://www.galiciajewishmuseum.org/
Galeria Sztuki Polskiej XIX wieku w Sukiennicach
Adres: Rynek Główny 3, Kraków
Godziny otwarcia:
poniedziałek Zamknięte
wt-sob 10:00–18:00
niedziela 10:00–16:00
Telefon: +48 12 433 54 00
http://mnk.pl/oddzial/galeria-sztuki-polskiej
Kręgielnia Bowling Plac Nowy 1
Adres: plac Nowy 1
Godziny otwarcia:
pon-śr 14:00–00:00
czw-pt 14:00–02:00
sobota 12:00–02:00
niedziela 10:00–00:00
Tel.: +48 12 442 77 11
http://www.placnowy1.pl/
The Stage – pub & bilard
Adres: ul.Łobzowska 3
Godziny otwarcia:
codziennie 13:00–01:00
Tel.: +48 12 681 63 85
http://www.thestage.pl/pl
Lost Room - escape room
Adres: ul. Kremerowska 5
Godziny otwarcia:
zgodnie z rezerwacją
Tel.: +48 690 022 547, +48 792 058 762
http://www.lostroom.pl/
Lost Bar
Adres: ul. Szewska 20
Godziny otwarcia:
Bar codziennie od 12:00
Pokoje zagadek zgodnie z rezerwacją
Tel.: +48 690 022 547, +48 792 058 762
http://lostbar.pl/index.php/pl/
GOjump Park Trampolin
Adres: ul.Centralna 41A
Godziny otwarcia:
codziennie 10:00-22:00
Tel.: +48 533 399 245
http://krakow.gojump.pl/
Park Wodny w Krakowie
Adres: ul.Dobrego Pasterza 126
Godziny otwarcia:
pon-niedz 08:00-22:00
Tel.: +48 12 616 31 90
http://www.parkwodny.pl/
Odbierz kupon na 15% zniżki w naszej Recepcji!
GoKarting Center
Book in advance by phone +48501274608. They have gas powered indroor gocarts. Great place, all in. You can race with your friends and family. Then have a nice drink, burger or pizza. The best way is to go by taxi and order one for the return travel. It takes about 20-30 minutes to get there. You buy 8 minutes race and usually 3 would be enough. I recommend 8 min race, 8 min break, 8 min race and so on. You will get all equipment onsite or you are welcome to bring your own helmet.
Adres: ul.Domagały 25
Godziny otwarcia:
pon-śr 14:00-22:00
czw-pt 14:00-23:00
sobota 12:00-23:00
niedziela 12:00-22:00
Tel.: +48 501 274 608
http://www.gokarting.com.pl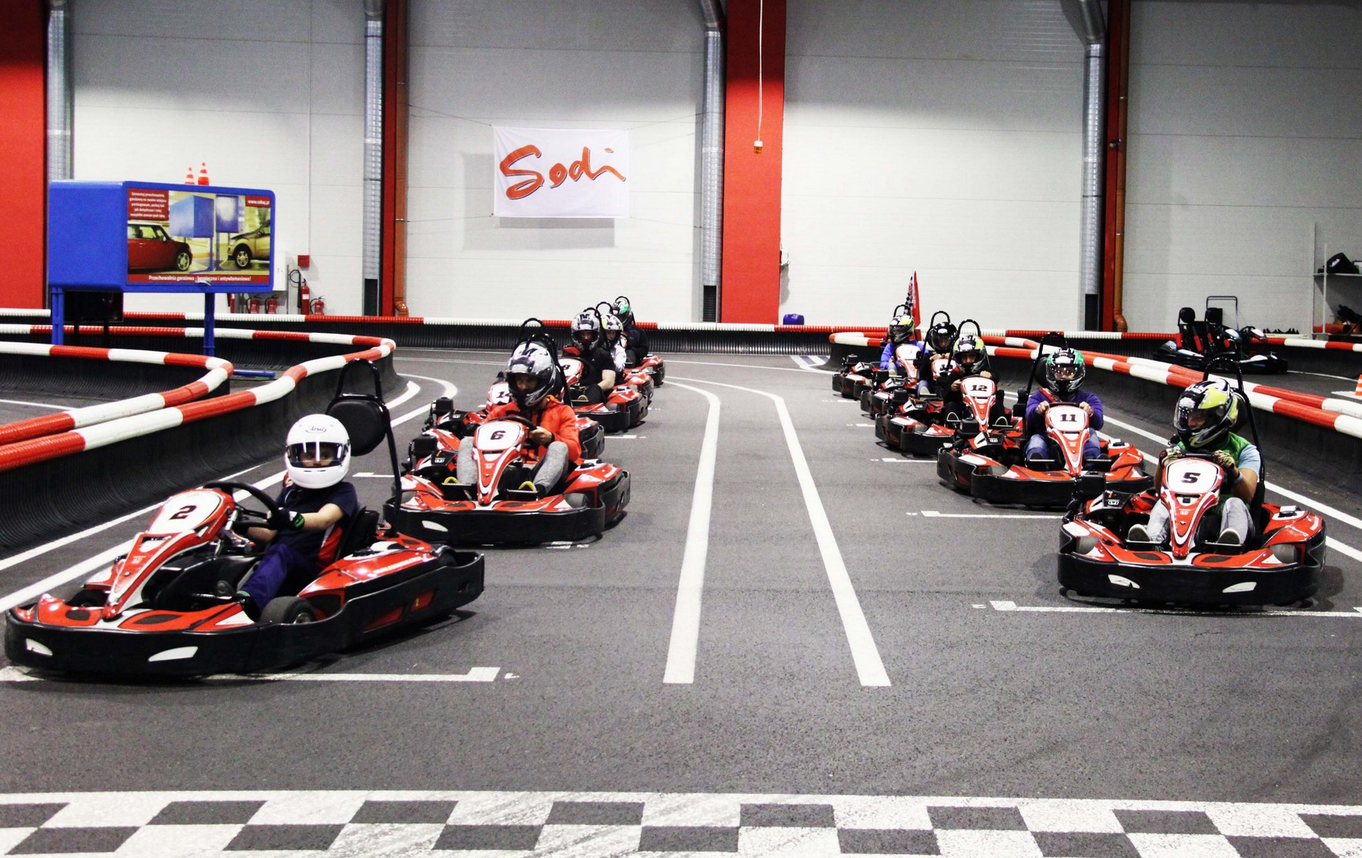 Motodrom Kraków – paintball
Adres: ul. Fabryczna 13
Godziny otwarcia:
codziennie po uprzednim umówieniu się
Tel.: +48 501 274 608
http://paintball.gokarty.pl/
Strzelnica Kraków - Shooting Range
Address: ul. Fabryczna 17
bookings +48 794 433 245
http://strzelnica.krakow.pl/
https://strzelnica.wizyta.pl